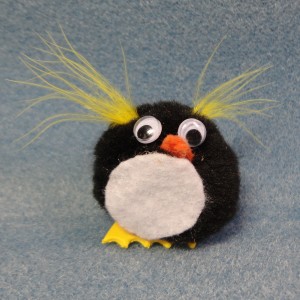 Black pompom 1½ ", google eyes 7 mm, white felt, orange foamie, yellow feathers, scissors, glue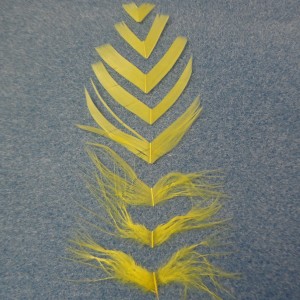 Cut the feather along the spine to make a v. The spine segments are about ¼ " long. Use a pair of scissors with a pointy tip so you can cut just the spine.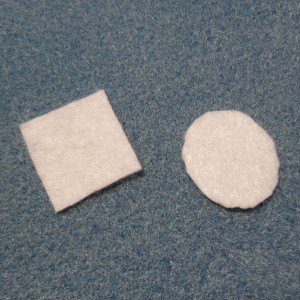 Cut the white felt into 1" circles. Tip: First cut the felt into 1" squares with a rotary cutter, then round off the corners. A 9"x12" felt sheet will produce 108 pieces.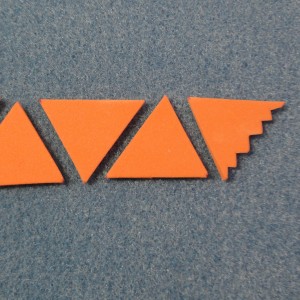 Cut the orange foamie into a 1" triangle. Tip: Cut the foamie into a 1" strip. Mark 1¼ " intervals on the edge of the strip. On the other edge, measure in 5/8" for the first mark, then 1¼ " intervals the rest of the way. Cut from mark to mark. To mark multiple strips at once, mark one strip, stack up 1" foamie strips, using the first strip that was marked, draw a line across all the edges. Use scissors on one side of the triangle to make the penguin's toes.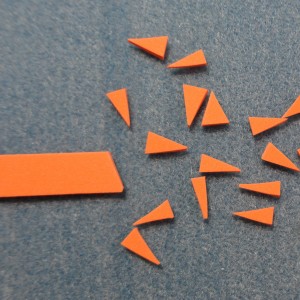 Cut beaks from the orange foamie. Tip: Cut the orange foamie into ½" a strip. Then cut out little triangles for the beak. These don't have to be exact. Orange felt can also be used for the beak.
Glue the feather as deep into the pompom as you can. Do this by pulling the pompom fibers apart.
Glue on the feet, belly, nose and eyes.
Attach a swap tag with a safety pin to the penguin.